The reference
in real estate for over 65 years
To take advantage of exclusive resources when making a purchase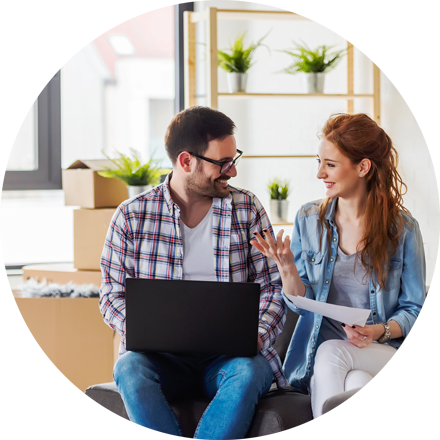 When you want to buy a property, your real estate broker will support you every step of the way, right up to the signing at the notary's office:
Initially, your broker uses the power of Centris® to target suitable properties for sale. Centris® is a much more comprehensive database than the public centris.ca site, and is reserved exclusively for brokers who are members of a real estate board.
Your broker then accompanies you on visits to analyze, from an objective point of view, the characteristics of the properties you have chosen.
Then he helps you prepare an offer to purchase and represents you during the negotiation process, a delicate task in which the help of a seasoned professional is indispensable. Your real estate broker is an expert in this field!
Whether you need financing, a technical property inspection or legal advice, your broker will guide you through the entire process.
Centris®, a powerful database
When you use a broker to find the property of your dreams, you'll benefit from Centris®, a system reserved exclusively for real estate brokers. Centris® is the most complete and up-to-date database of real estate transactions. It includes information not available on the public centris.ca site – five times more information. Centris® provides your broker with data such as :
the year a property was built;
the asking price;
sales price;
the value of the property according to specific criteria;
the property's sales history, so that a broker can track a property's evolution on the market over a period of several years.
Centris® helps your real estate broker find properties that exactly match your criteria as a buyer. You can search by price, neighborhood or features (fireplace, number of bedrooms and bathrooms, pool, etc.). Your broker can also provide you with information on recently sold properties, to help you make an informed choice.
The real estate broker also uses Centris® to help clients who want to sell their property determine its fair value.
The Centris® system is therefore the main tool for real estate brokers who are members of a real estate board. It fosters cooperation between competing members through regulations, policies and regulatory mechanisms.
As soon as a property is listed in the Centris® system, it can be viewed by all real estate brokers who are members of a real estate board – some 13,000 professionals. If the property matches a buyer's criteria, the broker can then make an appointment with the listing broker to visit it and, if necessary, close the deal.
Thanks to the Centris® system, brokers who are members of a real estate board can manage your real estate transaction masterfully.